OMGYOUGUYS. It's been over a year since my last blog post. Maybe even a year and a half. I tried posting a few times during 2020 but it turns out my brand of light-hearted nonsense felt tone-deaf in the face of a global pandemic, and after several futile attempts, I gave it up as lost.
But now, here we are. It feels like a particularly relevant time to pick it up again, in light of turning 40 this weekend.
I had big plans for the day (one might say too big, but there we are, me in a nutshell). The plan was a run, followed by a garden breakfast, then a farmer's market in which we source ingredients for a picnic, a hike (to said picnic), all wrapped up by twilight back in our garden at the fire pit.
Ahhhhh, folly. One would think you couldn't follow me into my fifth decade, and yet: here we are.
It started off perfectly. The run: ideally short. The first K was a hill I wasn't keen on, but I survived, and we came home to the coffee percolating, and cooled down on the terrace with a cuppa in hand.
Breakfast: Alan's famous Indian scramble, also on the terrace, also perfect:
HOW ABSURD IS THIS.
Then we headed off to the farmer's market, which was also delightful. This day was so on track we were just BUOYANT with joy and satisfaction.
[Disclaimer: older pic because I didn't snap one today, but same lovely market, two years on]
And then. The hike.
It's not a new hike to us. In fact, we've both walked and/or run this nine-kilometre loop (what we call the Ridge Run) on several occasions. It goes up, up, up, through gorgeous, leafy, shadowy, fern-laden forest, then flattens on top of the world with scorching, sun-drenched fields and swooping valley views, and then plummets back through Jurassic forest and cave and shadow, to end at the foot of the chateau's lake in our village. It's a lovely little jaunt, and we decided to picnic at the top in the Field o' Views.
We hiked, Alan gamely carrying the world's heaviest backpack stuffed with baguette, tomatoes, nectarines, cheese, charcuterie, and a local pet-nat. And then we find it -- the perfect picnic spot:
JUST LOOK AT IT.
We weren't quite hungry yet when we reached this nook, so we decided to relax in the sun, read our books, and just generally enjoy the peaceful setting.
And then we hear a bark.
There's a farm nearby. The farmer is out, mowing his field. The dog is also out, and keen to play.

The next we know, he is ON us. Literally, tackles us. Within seconds, our bottles of water have been knocked over, our Kindles stampeded, our arms and faces covered in slobber. Our new friend is going NOWHERE.
Sure, there's a whole blanket to enjoy, but NO, HE WILL SIT WHERE YOU ARE.
This is clearly no place to be unpacking charcuterie. We have to move.
So, resigned to losing the perfect picnic spot, but optimistic we will find another (field! o'views! expanses of space!) we gather our things to journey on. We are sure Leon (short for 'Lost Leon', as we christened him) will stay behind in His Field Near His Farm, leaving us alone to find the peace of another grassy knoll.
So we start walking. And Leon...escorts us:
When we lag, he kindly waits.
We keep going. There's 5k between his home and the lake. We are confident: he must leave us at some point. He has to have a wander-radius, and will eventually bore of our company and head back.
We keep going. We get to the Top, and with relief, realise Leon is nowhere to be seen. Perfect! Let's find a new place for the blanket and start rolling out the food! And then:
THAT. MOTHER. EFFER.
We eventually get all the way back to our lake -- now far past a reasonable late lunch hour and well into a reasonable early dinner hour -- and our companion is still gamely at our side. We are ultimately forced to settle at a picnic table a fifteen-minute walk from our front door.
Leon: shamelessly birthday crashing since 2021
We all know this guy in Hackney, the one who spots you out and about and wants to talk to you all day when you're trying to have a quiet one. BUT IN THE MIDDLE OF THE FRENCH COUNTRYSIDE? ET TU, LEON?!
And so...our picnic, at long last: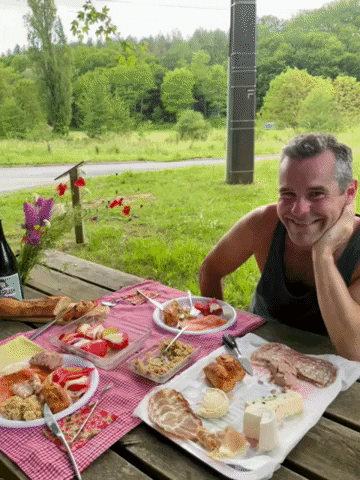 Not even a little sorry.
Needless to say, by the time we were done, the sun was setting and we were stuffed, so our plans to bbq over the fire pit were scuppered, but on the bright side: one more evening in which we get to celebrate is in store!
40: already taking its sweet time, guess I'm in for it.